How to Build a Membership Website in Record Time
It can take a lot of time, effort and hard work to build a membership website.
Long hours are spent preparing, developing your content and then painstakingly planning out each module and method of training.
Not to mention all the writing, filming, editing and producing involved to finally get to a point where you have something ready.
This whole process can take you months and months to complete.
You are risking not only your time but your investment and potentially being pipped to the post by your competitors.
But what if there was a better way to get to market quicker and see you generating revenue faster?
This traditional approach is not only slow, it's also risky.
The traditional approach to building a membership site is risky because you are investing massive amounts of time.
Time that is taken away from working on the rest of the business or that eats into your personal time.
Now, I am a big believer that working around the clock is not the right way to do things.
There is also a massive financial risk involved because you may be making a big investment in your product before you even get to market.
Membership plugins, website developers, designers, professional video services, software or paying for intros and outros.
Not to mention advertising in build-up to the launch. It all adds up.
So, if things don't go as well as you hoped, you are losing a lot.
The more time you take to bring your product to market, the more chance there is that someone will come along and pip you to the post.
That risk of someone coming up with a similar idea was definitely a worry for us when we were setting up the Membership Academy.
There was always that fear in the back of our minds.
What if you put in all this time and effort and two days before you launch somebody comes out with something better than you?
I don't want to put you off starting a membership site because they can be a fantastic business to run and a huge asset that will continue to pay dividends for years and years to come.
But there is a definite risk when taking that content first, front-loaded approach to producing your site.
When you build a membership site you will concentrate on three core areas:
Content: product, course, materials, videos – what you are selling
Website: building the site and the back-end plugins and resources
Promotion & Marketing: getting people to your site and signed up
The traditional approach sees you working on each area in that order.
First you create the content, then you develop the website and finally you promote the membership.
So how do you get your product or site together quickly without spending hours fine-tuning?
To quote the great Jack Canfield: You don't have to get it perfect, you just have to get it going.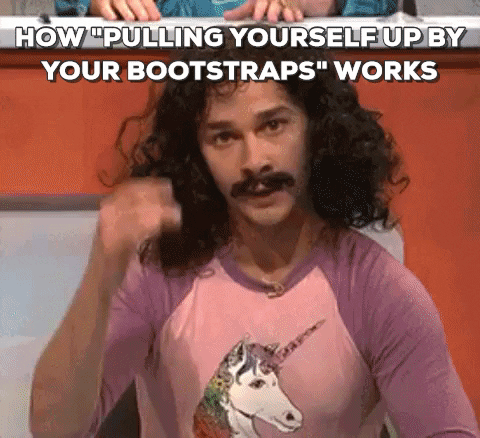 To get bootstrapping your membership site we need to change up the order.
Instead of content, website, and promotion, we are going to start with promoting first.
Step 1: Start by creating a lead capture page.
 A lead capture page acts as a waiting list. You need to make sure that people know that something awesome is coming up and tell them where they can submit their details to find out when it is going to be released.
You could also look at offering a discount to people if they submit their details to the waiting list.
Think about adding an explainer video that highlights the features of your product. This pre-sell will validate both your idea as well as your ability to drum up interest.
If you can't sell people enough on your proposition and get them on your waitlist, you will have difficulties selling your product when it is actually live.
It's good to highlight these weaknesses early in the process, rather than when you launch your site and realize you can't get anyone interested in your site.
Try using Leadpages, Optimizely, and Click Funnels to quickly and easily pull together a waiting list or opt-in page where you can start building leads and getting people interested in your product.
Utilize your existing email lists to drive traffic to your lead capture page
Your current email list may be made up of people who sign up to your blog, or past customers.
Use this email list to start to build up the launch of your site and let them know how they can register to be part of that launch.
Offer them a discount or some unique group or 1-2-1 coaching for the first members who sign up.
You can always limit the numbers to further incentivize people to get in there early.
Start to build up a group of interested buyers that you can reliably use as an indicator to work out how much demand there may be for the product at launch.
You can also start talking about how much it is going to cost and set expectations.
If you don't have an existing email list, you can start utilizing Facebook marketing, again to build up contacts.
You may want to direct them to a lead magnet, or you could go a step further and run a mini webinar or training session where you are promoting your product.
Some of you may not want to invest this time in a webinar just to get people on a waitlist.
But remember, these are all methods that you may use later on down the road, so we are just front-ending the promotional side of things so you can get your qualified list of potential buyers and leads for when you are ready to release this product.
The worst thing you can find out is that you have no ability to drum up buyers once you take your product to market.
Setting up a lead capture page first can be a really big boost.
Step 2: Get the website put together quickly
 Creating a website at this early stage might sound nerve-wracking but remember, you are bootstrapping at this point so don't worry about getting it perfect. You are looking for something out of the box that will give you what you need.
There are lot of marketplaces out there for website themes, for example – ThemeForest, but most of these won't give you the sales pages, lead pages, course pages and lesson pages that you need.
To speed up your delivery, you need themes or solutions with pre-built marketing templates
One of my favourites is Thrive Themes (conversion focused WordPress themes and plugins).
The creators of Thrive Themes also have a whole suite of products that are centered around marketing and are perfect for creating sales and lead pages.
Thrive has everything that you will need for your membership product or online course. It's also 'drag and drop' so you aren't going to need too much time to pull it together. Thrive's features that come out of the box are very good.
You will get something nice and attractive without wasting thousands of pounds and dollars getting a professional to do it for you.
Most importantly, it will be good enough to get the job done. Once you are making some money – then you can perfect your site.
Another option would be OptimizePress. Again, this is geared towards sales, membership sites and online courses.
They also have a membership plugin called Optimize Member which is based on the s2 Member plugin.
It may not be perfect or the most user-friendly, but this will be a great way to get you up and running quickly.
Alternatives such as Divi and Elementor have, arguably, better page-building tools; however "out of the box" aren't quite as geared towards creating sales and marketing pages, or the internal pages used by memberships.
Tools like Thrive and OptimizePress will get you up and running as quickly as possible, for little investment and will look good.
Now we can start promoting and building up to your product.
Step 3: Creating the content
The last step is creating content. This is a total flip around from how its usually done. Here we are creating the content on the fly.
Center your offering around real time or non-preparation content.
What I mean by that is, if you were planning on creating a 3-4 hour course or multiple courses as part of your main offering, build your initial content around live content instead.
Instead of recording, producing and finessing the full course in advance, why not run it over a series of 5x30m live training sessions or webinars.
You could even make them an hour long.
Then, once you've done them and done them live – after 5 or 6 weeks of running them once a week, you've created ALL your course material.
You're still doing what you originally planned to do – but now you are producing your course content on the fly while you are making money, with a live audience and active membership base.
Another bonus, if you do it live, your audience will be more forgiving if it's a bit scrappy.
The end result is still the same, you just haven't had to delay the launch and release of your membership. You are creating it after you've launched.
Use feedback from your live content to strengthen the rest of your course material
One of the big benefits of going live is that you can use your audiences' reaction and feedback to adjust and shape the next stage of your course content.
This will give you a much stronger course in the long run.
Feedback from that first live webinar could end up making your course material BETTER.
Use that immediate feedback and tune your materials to their exact needs.
If you have used this approach – you can now edit that recorded content and package it up as a static course.
Or you may decide to run more and more live courses to turn into static materials. It's a great way of keeping your memberships fresh and keeping people engaged and of course, paying you.
Get a community in place and generate even more course content
Building a community is a great way of keeping your members active and engaged without having to constantly feed them premium content.
It also gives you great fodder for creating other materials. Do weekly round-up videos where you go through the community discussions and add your comments and insights on what has been discussed.
This will give you snippets that can be turned into even more valuable content.
Try weekly or live Q&As with people on Hangouts or Webinar calls. It can all be on the fly but it will offer even more value to your members.
You can also put this in your archive, and give these unique Q&A archives to your new members that will give them added content that may not be in your courses.
Reassure your members by setting their expectations
For those of you who may be worried about a new joiner and there not being a large library of content, chances are most people aren't going to consume all this content in one week. You are not depriving them of a learning experience.
You'll have been upfront about the format of your course. It's live training, which is then recorded and they will value that.
Recap
If you take this approach you will be able to get things up and running without making a huge investment up-front.
If you are getting paying customers and building momentum and word of mouth and generating results, then you are going to have the time and money to invest.
You can then use this to improve your website further.
If you're itching to get a membership site or course up and running as quickly as possible, hopefully, this will have given you some food for thought.
This approach may not work for everyone – especially not for those who are perfectionists, this may make your brain explode!
But if you are raring and eager to go and are searching for the quickest way to get things moving – it's definitely an approach to consider.
Let's recap the key benefits of this quick approach:
Avoid big outlays in your time and investment
Confirm the validity of your concept with a lead capture page
Create demand and sign up buyers before you launch to market
Reduce the time taken to create content first by using a live on the fly method
Use feedback on your live content to develop and strengthen the rest of your course content
Use your community and live Q&As as additional course materials
So, stop trading time for money and give this bootstrapping approach a try.